Communication guidelines, last news, and media kit for Thymio resellers and partners
News about Mobsya & Thymio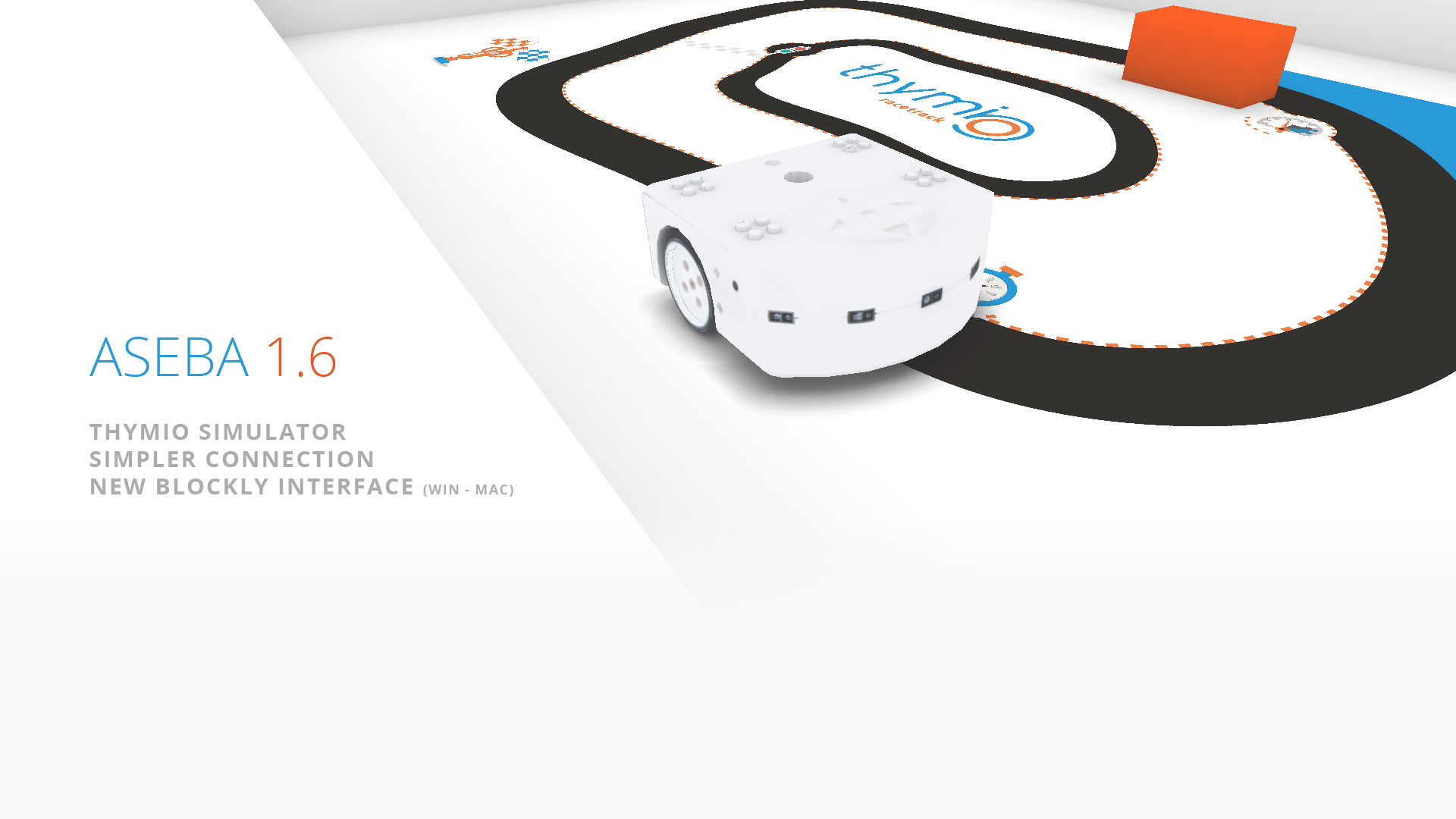 You can now try Thymio with a simulator, program Thymio with Scratch and the new Blockly interface, also, this update correct disconnection issues with Windows 10.
New product :
Thymio challenge Activities
The new activity kit for Thymio will help users to learn
how to use Thymio with 30 fun activities.
Media Kit
You can use the following images for your communication and for product descriptions.
Borgione
Via Giuseppe Gabrielli 1
10077 San Maurizio Canavese
Visit website
Exponentiel
Centre d'affaire de Californie,
Entrée Elodie Zone de Gros la Jambette,
Le Lamentin 97232, Martinique
Visit website
Scientific Enterprises Ltd.
45 Agion Saranta Str
18346 Moschato, Athens
Visit website
Itec Ldt
38th HaBarzel St.
Ramat Hachayal,
Tel-Aviv 6971054
Visit website
Easytis
1 Rue le Notre
95190 Goussainville
France
Génération Robots
1 rue Théodore Blanc
Bâtiment L
33049 Bordeaux
France
Educaland
468 rue jacques Monod
CS 21900
27019 EVREUX Cedex
Robot-Advance (Robopolis)
11 Avenue Albert Einstein,
69100 Villeurbanne,
France
A4
5 Avenue de l'Atlantique,
91940 Les Ulis,
France
Technologie Services
ZI du Gavé,
42330 Saint Galmier
Jeulin
rue Jacques-Monod 468,
27019 Evreux
France Robotique
2 Impasse Daguerre,
87100 LIMOGES
Exponenciel
Centre d'affaire de Californie,
Entrée Elodie Zone de Gros la Jambette,
Le Lamentin 97232,
Martinique
Educatec
Altes Schulhaus
Kanzleigasse 2
5312 Döttingen
Bischoff
Zigobot
Rue de la Grotte 4
1003 Lausanne 
Espace des inventions
Vallée de la Jeunesse 1
1007 Lausanne
EPFL Shop
Library "La Fontaine",
Rolex Learning Center,
EPFL,
1015 Lausanne (VD)
ETH Store
Sonneggstrasse 3,
8006 Zürich
ROBOSPHERE
Cornes-Morel 15
2300 La Chaux-de-Fonds (NE)
Defilangues
Zoning industriel,
4e Rue 31,
6040 Jumet
Baert
Essenestraat 16,
1710 Ternat
Borgione
Via Giuseppe Gabrielli 1
10077 San Maurizio Canavese
Knowledge Research
446 Mesogeion Ave.
153 42 Agia Paraskevi
Robotshop
555 Route 78, suite 367
Swanton, Vermont
05488
Robotshop
18005 Lapointe, Building #305
Mirabel, Québec, Canada
J7J 0G2
Solarbotics
#101 3740D-11A Street NE
Calgary, Alberta T2E 6M6
Itec Ltd
38th HaBarzel St. Ramat Hachayal,
Tel-Aviv 6971054
Israel
Easytis Asia
Laguna City Block 23 8th Floor,
HongKong
How to be a partner of Mobsya ?
Show the world that your company cares about digital education and take the opportunity to organize

amazing things

with Thymio.
Do you have interesting information to share ?
 
Mobsya association is taking care of Thymio communication and social medias. You can send us pertinent information about Thymio (Events, free workshops, user stories, tutorials, Thymio products reviews, …) that we will share.
We want to give followers and users useful information about how to use the robot, about what you can do with the robot and about other user's/partners feedback. We will not share any advertising like, for example, a special offer on Thymio products.
Social networks
We will gladly repost/share posts using the hashtags #Thymio or #ThymioEdu (if the information is useful to teachers)